This gold sheet from Swāt was discovered in a stone pot.  Tatsuzo Kaku, an antiquities dealer from Tokyo, reported on the circumstances of the find.  "I acquired some time ago a reliquary of grey shale found during a search in Mata, Swât region, Pakistan. This reliquary contained a large number of pearls, precious stones and gold and silver flowers; A 13 x 10 cm cotton fabric. with embroidery depicting the three jewels; a gold plate 11 x 4 cm. with a seven-line kharośthi inscription."  This outline of the circumstances of the find and photographs of the reliquary, its contents and the inscribed gold sheet were provided to Fussman who published the initial edition in 1986.
Conventional Name Ajidaseṇa Gold Sheet | Findspot Pakistan, Khyber Pakhtunkhwa, Swāt – Mata | Archeological Report: Fussman 1986 | Item Rectangular Gold Sheet | Surface Recto | Dimensions Height: 4cm, Width: 11cm | Date Ajidaseṇa 4 | Collection Hirayama Ikuo Silk Road Museum: 101740 | Current Location Hokuto, Japan | Language/Script Gāndhārī/Kharoṣṭḥī
Content Summary
King Ajidaseṇa establishes relics of the completely enlightened and perfect Lord in a previously unestablished stupa.  Past, future and present Buddhas, disciples of the Buddha and the kings parents are honoured.  This serves for the elimination of suffering, and for nirvana.
Previous Editions
Fussman, Gerard. 1986. "Documents épigraphiques kouchans (IV) : Ajitasena, père de Senavarma." Bulletin de l'École française d'Extrême‐Orient 75: 1–14

Baums, Stefan. 2012. "Catalog and Revised Texts and Translations of Gandharan Reliquary Inscriptions." In: David Jongeward, Elizabeth Errington, Richard Salomon and Stefan Baums, Gandharan Buddhist Reliquaries. Gandharan Studies, Volume 1, Seattle: Early Buddhist Manuscripts Project. 209-11
Acknowledgements
Research on this edition and production of the digital edition was completed with the generous support of the Prakaś Foundation.  The transliteration, translation, chāyā and glossary have been reviewed by Mark Allon and Stephanie Majcher.
Digital publishing by Ian McCrabb
Each digital edition includes background information about the text, a summary of its content, and references to parallel texts and related publications. Users can explore the text, image, and other analysis resources through various preset views from the READ interface, or customize the views themselves.
By developing the text in READ, the text and image are linked such that selecting a syllable, word, or compound in the text or glossary will highlight the associated akṣaras on the manuscript. This allows you to in effect "read" the manuscript as you read the transcribed text, even if you do not know the script.
Users can choose from several preset READ views by selecting the tabs at the top. Each of these convenient arrangements of text and resources is suited to a different experience with the manuscript. For instance, choose the Script view to study the paleography of the manuscript or the Glossary view to study its vocabulary. It is recommended that the user toggles through the default views to gain a holistic perspective of the text.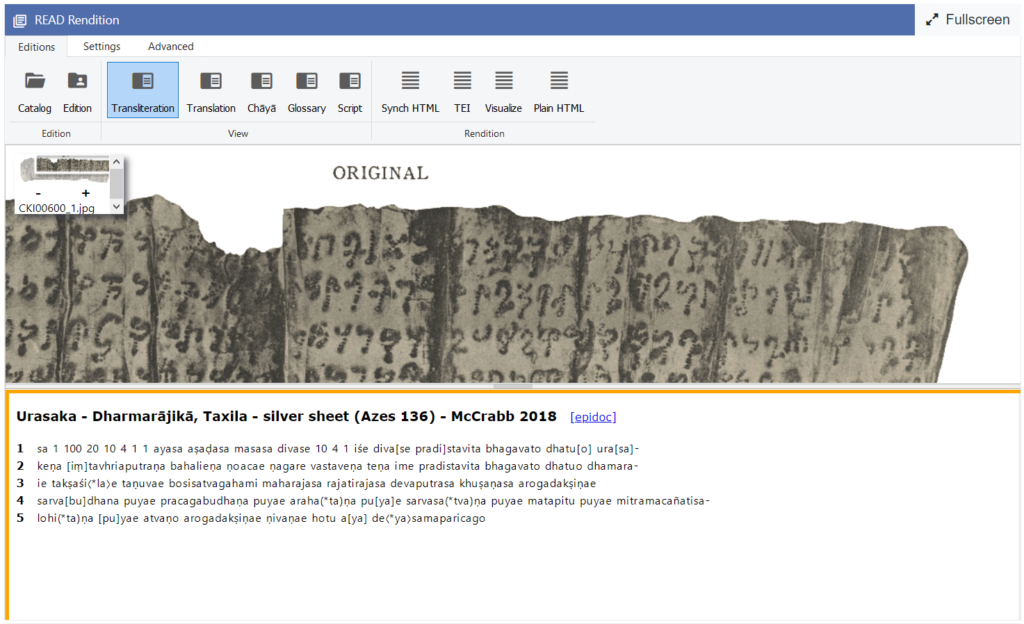 Transliteration: Image and transliteration.
Translation: Transliteration and translation.
Chāyā: Transliteration and chāyā.
Glossary: Image, transliteration, and glossary.
Script: Image, transliteration, and script chart
Visualize: Visualize the text structure display.
Synch HTML: Interactive synchronized rendition.
TEI: EpiDoc TEI rendition.
Plain HTML: Transliteration in HTML format.
Avś
Be
Ce
Ch.
CPS
DhG
Ee
FJJ
Mahīś
MūSā
Mvu
P
SĀ
SBhV
Se
Skt.
SN
T
Tib.
Vin
Avadānaśataka (ed. Speyer 1906–1909)
Burmese (Chaṭṭhasaṅgāyana) edition
Sri Lankan (Buddha Jayanti Tipiṭaka Series) edition
Chinese
Catuṣpariṣat-sūtra (ed. Waldschmidt 1952–1962)
Dharmaguptaka
European (Pali Text Society) edition
Fobenxing ji jing (T 190)
Mahīśāsaka
Mūlasarvāstivāda
Mahāvastu-avadāna (ed. Senart 1882–1897)
Pali
Saṃyukta-āgama (T 99)
Saṅghabhedavastu (ed. Gnoli 1977–1978)
Thai (King of Siam) edition
Sanskrit
Saṃyutta-nikāya
Taishō 大正 edition
Tibetan
Vinaya